CarPlan
offers everything needed to clean, valet and care for your car, inside and out.
CarPlan
is the number one selling car care brand in the UK, and has been manufacturing first class car care products since the 1960's. Due to our experience, heritage and market research we continually update and develop our car care products to meet changing customer and car enthusiast needs across the word.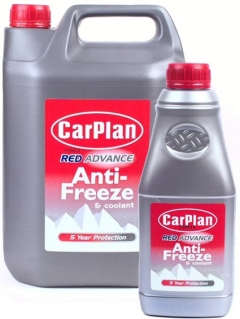 Red Advance Antifreeze
5 Years extended live VW G12++/TL774G
CarPlan Red Advance is the latest in ethylene glycol based antifreeze/coolant, incorporating advanced silicated Organic Acid Technonlogy (OAT). It is recommended for Volkswagen Group vehicles 2005 onwards, amongst other, and offers winter protection down to -37C for 5 years.
* Not suitable for Classic Cars
Conforms to BS6580 (1992) & Volkswagen Group G12++/TL774G
| Package | Size | Part code | Barcode |
| --- | --- | --- | --- |
| W G12++/TL774G | 1ltr | RAA001 | 5010373047804 |
| W G12++/TL774G | 2ltr | RAA002 | 5010373047828 |
| W G12++/TL774G | 5ltr | RAA005 | 5010373047842 |
| W G12++/TL774G | 25ltr | RAA025 | 5010373047842 |
| W G12++/TL774G | 199ltr | RAA199 | 5010373047859 |