The
Demon
car care range is a series of technologically advanced cleaning products. During the development of these products particular emphasis was placed on producing the highest level of formulations, with durability and efficiency of use. The
Demon
range allows you to take professional care of the internal & external appearance of the car.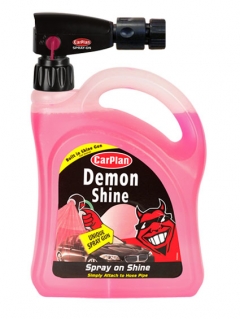 Demon Shine GUN
Spray Gun Shine
The legendary Demon Shine range from Tetrosyl is proud to introduce the all new:
'Demon Shine, Spray Gun Shine!
No time for waxing?
Find Polishing Boring?
Demon Shine Spray Gun Shine gives your car an instant shine in a fraction of the time!
- The Revolutionary Demon Shine is now even quicker & easier to apply!
- Simply attach to a hose, rinse the car, and spray on that shine!
- The new Demon Shine Spray Gun shine provides better coverage with its special wide angled spray treating those hard to reach area's!
- Creates an outstanding depth of colour on all types of paint finishes!
- Hydrophobic content immediately produces a water – repellent coating!
- Cherry Fragrance!
| Package | Fragrance | Size | Part code | Barcode |
| --- | --- | --- | --- | --- |
| Venturi System | Cherry | 2ltr | CSV200 | 5010373057124 |
CarPlan
Demon Shine