The
Demon
car care range is a series of technologically advanced cleaning products. During the development of these products particular emphasis was placed on producing the highest level of formulations, with durability and efficiency of use. The
Demon
range allows you to take professional care of the internal & external appearance of the car.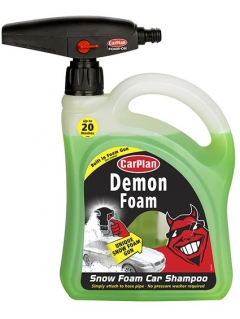 Demon Foam - Snow Foam GUN
Snow Foam Car Shampoo with a GUN
The revolutionary Demon Foam is the only product that creates a dense snow foam, just by simply attaching to a hose pipe.
Specially formulated to create a dense foam that clings to paintwork. Effortlessly lifts dirt and contaminants from the surface. High performance detergents powerfully remove all traces of traffic film, dirt and grease leaving a spotless, streak-free, shiny finish.
| Fragrance | Size | Part code | Barcode |
| --- | --- | --- | --- |
| Cherry | 2ltr | CDW200 | 50768257 |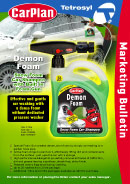 CarPlan
Demon Foam