The
Demon
car care range is a series of technologically advanced cleaning products. During the development of these products particular emphasis was placed on producing the highest level of formulations, with durability and efficiency of use. The
Demon
range allows you to take professional care of the internal & external appearance of the car.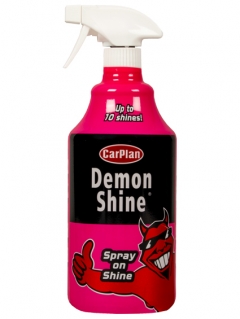 Demon Shine
No effort instant shine in minutes!
No time for waxing? Find polishing boring?
Use Demon Shine!
CarPlan Demon Shine Spray on Shine is the instant way to give your car a brilliant shine with no effort. It is so easy to use and you can get that 'Just Waxed' look in minutes with no hard rubbing or polishing, just a devilish 'Mirror Finish' shine that lasts for weeks.
| Package | Size | Part code | Barcode |
| --- | --- | --- | --- |
| Trigger - Spray on Shine | 1ltr | CDS101 | 5010373037355 |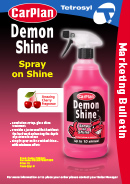 CarPlan
Demon Shine